Customer Feedback
"These cabs are very capable of competing with my previous monsterstack,
and at only a fraction of the size and weight"
The back story: A year ago Joris downsized to a pair of boutique neo 1x12" cabs because he wanted a flexible rig which he wouldn't need help to move. He liked their sound in general but missed the low punch he got from his 'monsterstack' and found they farted out (distorted) at high levels, especially when using the octaver on his Microsynth pedal. Joris stumbled across some glowing Barefaced reviews on the internet and decided to contact us, initially just to see if two Big Baby II cabs would squeeze into the concealed loadspace in his camper van! 
Here's what he told us after spending a month with his new cabs:
"Man, these cabs are really a dream come true!"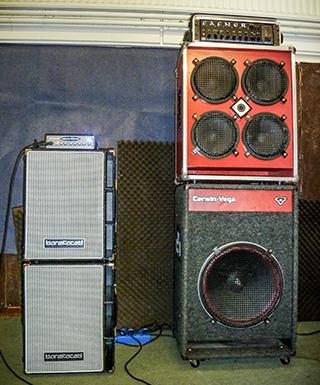 "First of all they are so incredibly compact and LIGHT, it is a great improvement over my previous monsterstack (4x10+HF with 1x18" and EBS Fafner) which was massive sounding for Rock, Dub and D&B type stuff, but huge and too heavy to handle alone comfortably (see pic with both stacks for impression of how much I am downsizing)."
"Then the most important question of all, how do the BB2's stand up soundwise? 
Well, really very VERY impressive."
"After loosening up of the drivers a couple of hours, I noticed better low frequency response and overall very natural sounding bass cabs. They make the sound of my passive PJ basses come out beautifully, very open sounding."
"Together with GenzBenz Streamliner 900 or EBS Fafner (both great sounding amps) these cabs are very capable of competing with my previous monsterstack for the heavier stuff, and only at a fraction of the size and weight. Really very impressive.
The response at high volume levels and reproduction of octave down effects is really tight, there are no rattles, buzzzes of whatsoever from the cabs, only the surrounding room/doors/shelves etc. resonating ;-) Of course if you go down to subbass the 18" does go a bit deeper, but I am amazed at how small the difference is.
On the other hand I directly preferred the direct and natural sound of the BB2's especially the reproduction of mids is really pleasant and I am able to hear my natural sounding bass in a considerably wider angle than with my previous 4x10".
Last but not least, I love the vintage looking speaker cloth, it matches my '70s basses very well and surprises people that such a sound comes from a pair of vintage style small cabs!
All together, I am very happy with my purchase and will probably be selling all my other cabs.
Keep up the good work!
Joris"